The origin of monastery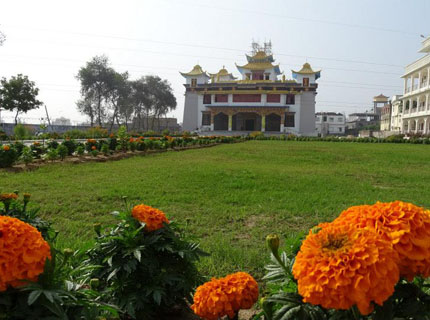 Bodh Gaya in India is the holy place where the thousand Buddhas of the Worthy Aeon becoming the Buddha. And the sacred place where the Buddhist master, Buddha Sakyamuni attained enlightenment. Over two thousand years, this holy place has been visited by numerous monks, nuns and lay people from all over the world for pilgrimage, many mahasiddhas treat Bodh Gaya as a must visit holy place for prayer and Dharma practice in lifetime that further enhance incredible blessings of Bodh Gaya.
The mahasiddhas of late H.H. Penor Rinpoche, H.H. Chatral Rinpoche etc. of The Nyingmapa tradition of Tibetan Buddhism initiative organized jointly to hold the World Peace Prayers Ceremony in Bodh Gaya every year since 1989, Although it's extreme inconvenience in transportation in India,and the journey takes five days and nights when departing from Palyul Namdroling Monastery to Bodh Gaya, however, thousands of monks from Namdroling Monastery have been sending to participate in the grand ceremony each year until today and hoped to dedicate the supreme blessings through Dharma practices at the holy place to all beings in the six realms.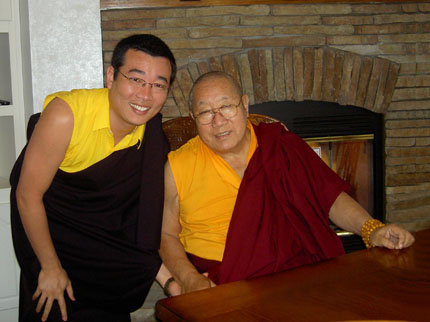 It's deemed that people irrespective of riches or poverty, nobleness or lowness, as long as one would pray and vow sincerely and earnestly, one's wishes will be fulfilled spontaneously and timely.
There are various inauspicious events of natural and man-made disasters etc. often occur around the world today, however, the Buddhist sutra says that one could obstruct unfavorable circumstances, keep out disasters and sufferings,and attain tranquility and happiness if the one regularly supplicates for the blessings of the Three Gem and extensively make offerings and almsgivings to amass vast merit and virtue.
Furthermore, one shall cultivategood motivation and causes and conditions of caring all beings besides satisfying one's own desires if the one wants to attain ultimate peace and bliss for good; The most supreme practice is to support a monastery that carrying on the tradition of Dharma propagation and altruistic activities would ensure the Buddha Dharma can be handed down from generations to generations, and spread the seeds of tranquility and happiness to all over the world to benefit innumerable, immeasurable sentient beings.
Just like the past in Buddha era, there were many great practitioners been attracted to Bodh Gaya to practice Dharma and bestow blessings because of the Vajra tower and Ching Temple built there, where thus also provided the opportunity for people to make obeisance and offerings at this holy place, all of which make Buddha Dharma remain flourish till today and continue spreading to every corner of the globe.
Even though there are many Buddhist temples around the world, however, to construct a stupa, monastery etc. at the holy place where Buddha Sakyamuni attained enlightenment that represents significant, far-reaching in incredible meaning and virtue and merit,moreover, the last wish of His Holiness that was to construct a Monastery at the holy place, and now, the construction of "Ngagyur Palyul Thupten Shedrup Choekhor Dargyeling"has been completed;the Buddhist sutra says thatarousing Bodhicitta to construct stupa, temple and Buddha statue, such virtue and meritwill be accumulated to one's future generations…May all believers and disciples around the world couldgrasp the supreme opportunity andpersevere in providing ongoing support to Monastery's operation and maintenancethen either one or one'sposteritywill accumulate immeasurable merit and virtue.
Bodh Gaya in India is the sacred place where Buddha attained enlightenment. For the convenience of the fourfold assembly of monks and laity, etc., from all over the world who makes pilgrimage to Bodh Gaya can also attend the various group and individual practice activities conducted by the Monastery, thus Kyabje Gyang khang Chotrul Rinpoche planned to build the"Ngagyur Palyul Thupten Shedrup Choekhor Dargyeling", the Ground Breaking Ceremony of which had taken place on August 5th, 2008, and the Inauguration Ceremony on January 19th 2016!